FeiyuTech Waterproof Wearable Gimbal Review
In this short review, we will have a look at the Feiyu Tech WG2 Waterproof Wearable Gimbal, a waterproof (IP67) wearable gimbal for the better camera work.
A rolling arm is included to find a great balance for the camera when on the move. It comes with a wireless control ability using an app on your smartphone. A sliding arm comes in handy if you want to mount multiple cameras to the gimbal.
As said, one of the main advantages of buying this gimbal is its waterproofness. Having an IP67 mark ensures that the device is protected from dust and capable of withstanding water immersion between 9 and 40 inches for 30 minutes.
It's 360 pitching and panning are nice features to have as well, including the ability to shoot time-lapse images.
This gimbal is amazing for any amateur or professional wanting to shot videos on the movie. It has great abilities to mount various cameras on it and the design is nifty and innovative.
You can take breathtaking panorama pictures giving you unbelievable outcomes. It runs for up to 6 hours and it's USB rechargeability makes sure you can use this gimbal while traveling or during x-sports.
For more information on this product please read the reviews for the Feiyu Tech WG2 Gimbal on Amazon.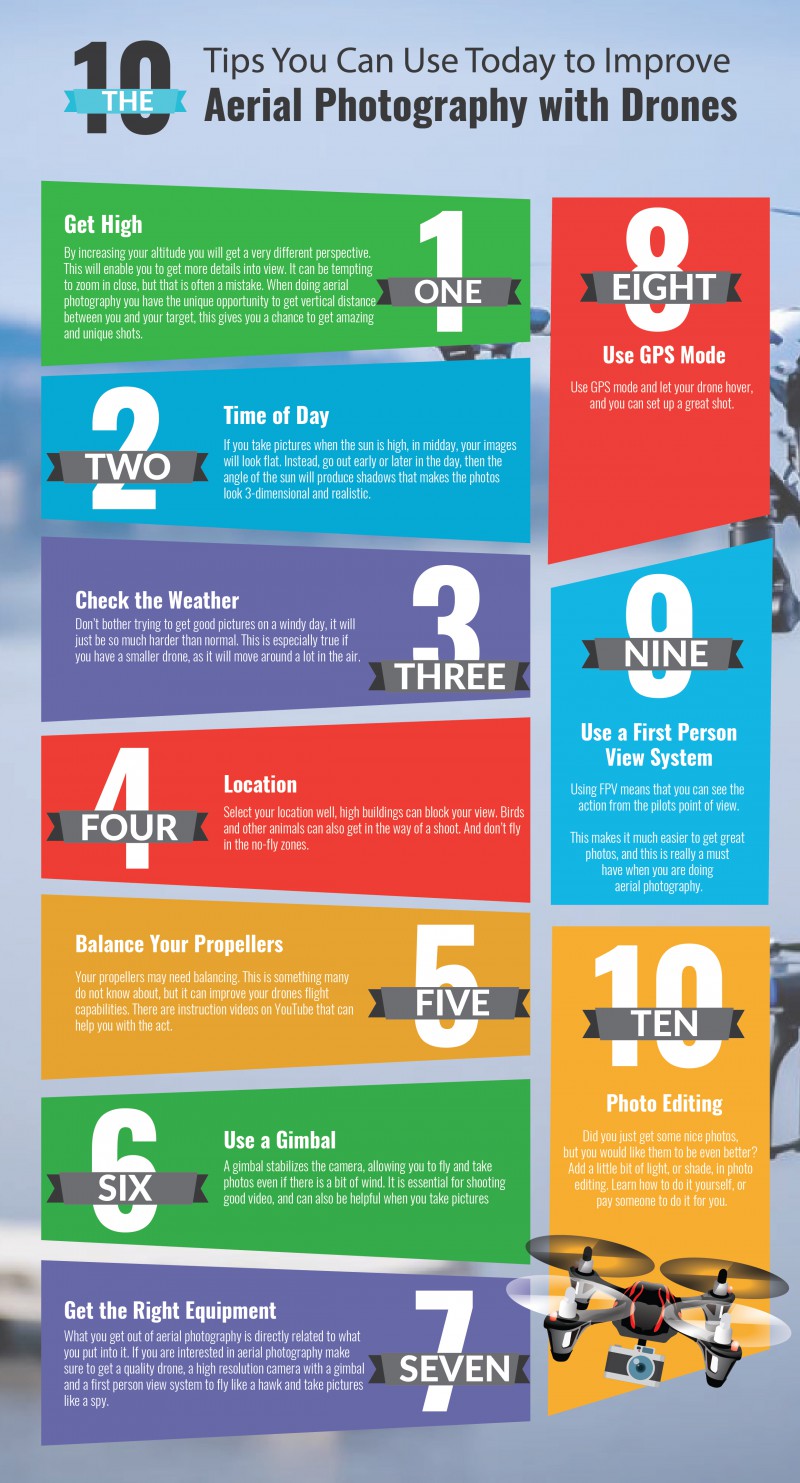 10 Tips You Can Use Today to Improve Aerial Photography with Drones
Get high
By increasing your altitude yon will get a very different perspective. This will enable you to get more details into view. It can be tempting to zoom in close, but that is often a mistake. When doing aerial photography you have the unique opportunity to get vertical distance between you and your target, this gives you a chance to get amazing and unique shots.
Time of Day
If you take pictures when the sun is high, in midday, your images will look flat. Instead, go out early or later in the day, then the angle of the sun will produce shadows that makes the photos look 3-dimensional and realistic.
Check the Weather
Don't bother trying to get good pictures on a windy day, it will just be so much harder than normal. This is especially true if you have a smaller drone, as II will move around a lot In the air.
Location
Select your location well, high buildings can block your view. Birds and other animals can also get in the way of a shoot. And don't fly In the no-fly zones.
Balance Your Propellers
Your propellers may need balancing. This is something many do not know about, but it can improve your drones flight capabilities. There are instruction videos on YouTube that can help you with the act.
Use a Gimbal
A gimbal stabilizes the camera, allowing you to fly and take photos even if there is a bit of wind. It is essential for shooting good video, and can also be helpful when you take pictures.
Get the Right Equipment
What you get out ot aerial photography is directly related to what you put into it. If you are interested in aerial photography make sure to get a quality drone, a high resolution camera with a gimbal and a first person view system to fly like a hawk and take pictures like a spy.
Use a First Person View System
Using FPV means that you can see the action from the pilots point of view. This makes it much easier to get great photos, and this Is really a must have when you are doing aerial photography.
Use GPS Mode
Use GPS mode and let your drone hover, and you can set up a great shot.
Photo Editing
Did you just get some nice photos, hut you would like them to be even better? Add a little bit of light, or shade, in photo editing. Learn how to do it yourself, or pay someone to do it for you.