How to Solve your Hacked Site
More than 30,000 websites are hacked each day, based on a Sophos Security Threat Report. It is frustrating when you check your site, only to discover that it is been taken over by a hacker.
You have invested numerous hours into building a strong online presence from the ground up. Now that your site is hacked, however, all of your hard work is negated. Maybe the hacker is using your site to distribute to malware, or perhaps he or she's using it to funnel traffic to their web properties. Aside from why your site was hacked, you should take immediate action to remedy the situation.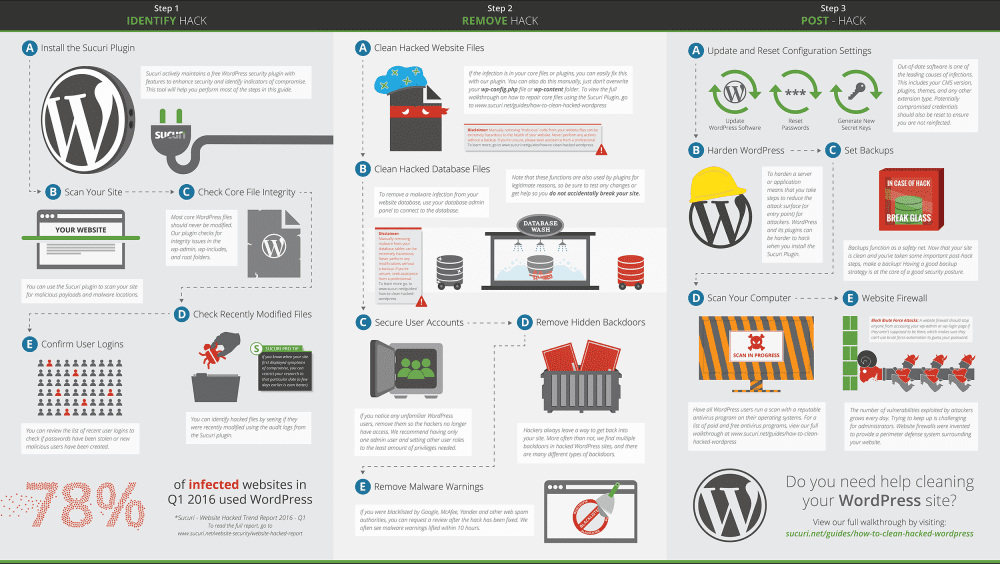 #l) Notify Your Web Host
First and foremost, contact your web host and notify them of the situation. Most web hosting services – virtual private servers (VFSs) and shared hosting packages- feature multiple sites on the same server. When one of these sites is hacked, all other sites may also be compromised as well. Thus, unless you have a dedicated server, your hacked site could cause security issues for other webmasters.
Web hosts deal with hacked websites and security issues on a daily basis. They can provide guidance on howto restore your site, or sometimes, they can perform operations on their end to solve the vulnerability. Regardless, the very first thing you should do after discovering your site has been hacked is notify your web host.
#2) Check for Cloaked Content Using Google's 'Fetch as' Tool
When hackers take control of a site, they often use software or scripts to show two different types of content: regular content and cloaked content. Human guests see the regular content, while search engines see the cloaked content.
Tine general idea behind cloaking is to display mal ware, phishing schemes, advertisements or links on a site without losing the site's search rankings Search engines "think" a site is filled with top-notch content, but in reality its serving guests with malicious code. You can check to see if your site is displaying cloaked content by making use of Google's "Fetch as" tool in the Search Console. This tool shows your site from Google's perspective.
If your site is serving cloaked content, you will need to clean it before submitting a reconsideration request to Google. Neither Google nor any other major search engine enables cloaked content in their respective index. And failure to solve it will likely result in a significant drop in your site's search rankings.
#3) Take it Offline
Unless alternatively instructed by your web host, you should take your hacked site offline to mitigate the harm. You don't have to necessarily delete your site's files from the server. Rather, point the domain name of your site to different nameservers.
For those who have another web hosting account – and it hasn't been compromised – you can direct your nameservers to a static page with a 303 HTTP error code. This tells guests that your site is temporarily down for maintenance. Your site will not display content when it is offline, but that is not particularly a negative thing. If your site has been hacked, it may contain malicious software or code that can affect guests, potentially infecting their computers as well.
#4) Change Your Passwords
Now it is time to your change the passwords connected with your site. If an unwanted user has accessed your site, he or she most likely knows the password for either your content management system (CMS), file transfer protocol (FTP) login, or back-end user display. Flackers often use brute force attacks to spam username and password variations in attempt to find a combination that works As the name suggests, a brute force attack is dependent on repetition to infiltrate sites Using dictionary software, the hacker spams numerous words and word combinations to try and find the proper password.
Here are some tips on how to create strong passwords: Create distinctive passwords; don't reuse the same password on multiple accounts or services Don't use personal information, including your birthday or middle name, in your passwords. Use a combination of upper-case letters lower-case letters, numbers (non-sequential), and special characters Don't store your passwords unless they are encrypted and stored offline on a USB flash drive or separate media device.
#5) Repair the Harm
Now comes the fun part: repairing the harm caused by the hack. Some hacks are minor, consisting of nothing more than redirects in which case you can simply delete the redirect code. Other hacks, however, are more severe, featuring thousands of lines of new or modified code. If you are familiar with HTML, PH P and JavaScript, perhaps you can repair the harm yourself. But if this sounds too difficult, you should hire a professional cybersecurity expert to perform this task. The ultimate goal is to restore your site to its original condition, before it was hacked.
an option solution is to use a backup copy of your site. If you create regular backups of your site – like you should – you can restore it back to its original state using the most recent backup. The only downside is that you1 II lose any content created after the backup was made.
#6) Update Content Management System
Assuming your site runs a CMS like Word Push, you should update all of its associated files. If you followed the guidelines listed above, you'II need to go back and change the nameservers to your original server. This will allow you to log in to your site's CMS through your web browser, at which point you can update the files. Hackers often target websites running outdated versions of Word Push given that they contain exploitable vulnerabilities. If you don't update your site's files, it could leave the doors open to hackers Thus, log in to your site to ensure it is running the most recent version of WordPress.
You should also update any plugins and themes on your site to the most recent version. Based on the WPScan Vulnerability Database, plugins are responsible for more than half of all Word Push security vulnerabilities. If your site's plugins or themes are outdated, update them ASAP.
#7) Submit a Reconsideration Request to Google
Unsurprisingly, Google usually eliminates hacked websites from its search index. Thus, even if your site ranked at the top for its target keywords* it may no longer appear in the search results after being hacked. You can regain your lost rankings, however, by removing any malicious content from your site and then submitting a reconsideration request to Google. Visit Google.com/webmasters/tools/reconsideration while logged in to your Webmaster Tools account and check your site for manual actions. If Google has taken action against your site, you will have the option to submit a reconsideration request.
Remember that Google receives thousands of these requests, so it may take several weeks or even months before your site is reviewed. If your site is fixed, however, Google should reinstate your lost rankings. Don't let a hacked site ruin your brand's online presence. Follow the steps listed here to solve the harm and restore your reputation.